Europeana Education is an online space and an initiative to bring Europe's digital cultural heritage closer to education. Cultural heritage has a crucial role to play in education.
Although educational curricula and national priorities differ, at the core of our educational systems we all want to make the most interesting and inspiring content available for students and lifelong learners. Europeana's digitized collection of cultural heritage can provide multiple perspectives on historical, political, economic, cultural and human developments across Europe and beyond.  
In our dedicated space in Europeana Professional website we provide a Guide to using Europeana in education with search tips and information on copyright and crediting.
There you will also find apps (that you can utilize in your class on various subjects, such as Science, Cultural Heritage or Art, among others) and Curated datasets (carefully selected Europeana content records on a particular topic).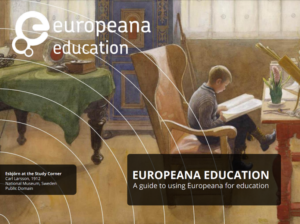 ---